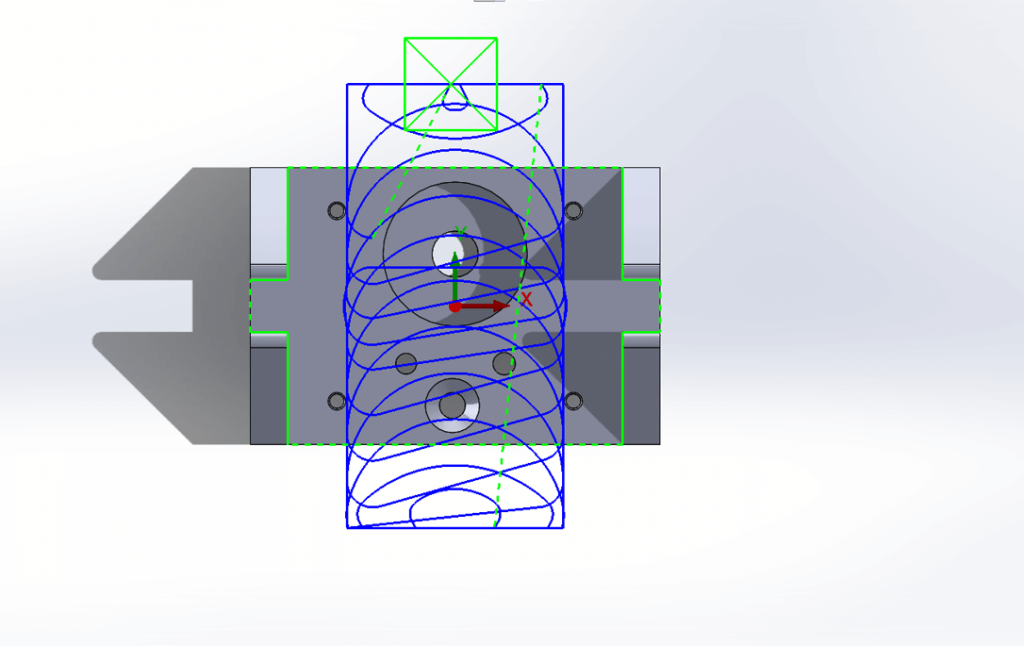 VoluMill je strategija obdelave za grobo 2.5 in 3 osno rezkanje, pri katerem tehnologija poskrbi za idealno pot obdelave, kjer orodje obdeluje surovec s čim bolj konstantno hitrostjo in pomikom ter čim večjo površino. V določenih primerih lahko izkoristimo celotno dolžino orodja kar nam poleg hitrejše obdelave podaljša tudi živjensko dobo orodja.
Prednosti Volumill-a:
Ustvari in ohranja idealne pogoje odvzema materiala
Hitrejša in bolj tekoča obelava
Prijaznejša obdelava do stroja in orodja
Kako izberemo strategijo Volumill v CAMWorks-u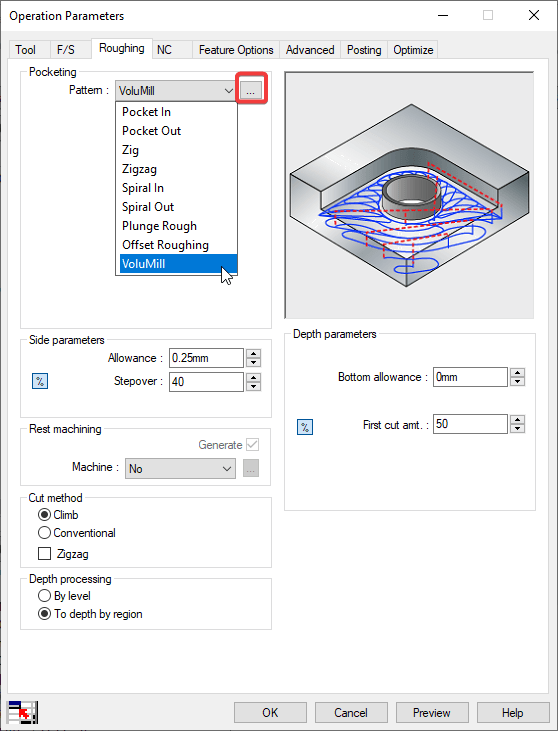 Strategijo VoluMill izberemo z dvoklikom na željeno grobo obdelavo pri kateri želimo trenutno strategijo spremeniti v strategijo VoluMill. V zavihku »Roughing« pod »Pocketing« -> »Patern« s spustnega menija izberemo VoluMill. Izbiro lahko takoj potrdim s klikom na »OK«. Lahko pa še ročno nastavimo nekaj nastavitev. Izbira nastavitev v tem oknu je omejena, nekaj več možnosti dobimo, če kliknemo na tri pikice označene z rdečo na zgornji sliki. Odpre se nam »VoluMill Settings«.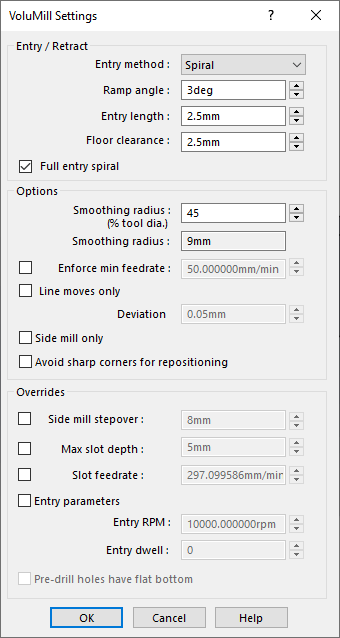 V »VoluMill Settings« lahko nastavimo metodo vstopa orodja, kot vstopa orodja (samo če je izbrana metoda »Spiral«), dolžino vstopa orodja ter »Floor clearence« s katerim nastavimo odmik orodja v hiterem gibu.
V segmentu Options imamo še eno zelo pomembno nastavitev to je »Smoothing radius« s to nastavitvijo se izognemo ostrim zavojem v poti orodja. Vezana ja na na premer orodja in po podatkih CAMWorks-a je 45% najbolj optimalna nastavitev, ki pa se spreminja glede na geometrijo obdelovanca. Manjša kot so % manjši je radius poti kar pomeni, da lahko naše orodje doseže ožja področja seveda pa moramo posledično zmanjšati naše pomike in obrate »F/S«.
V področju »Overrides« lahko prepišemo že izbrane nastavitve. V veliko primerih lahko nastaviteve ostanejo privzete in bo strategija delovala odlično.

VoluMill Techology Expert
Če želimo tehnologijo obdelave podrobneje prilagoditi našim željam lahko to storim s pomočjo VoluMill Techology Expert-a, do njega dostopamo v zavihku »Feeds & Speeds« iz spustenga menija moramo izbrati »Operation« na kar se nam omogoči klik na gumb »VoluMill Techology Expert«.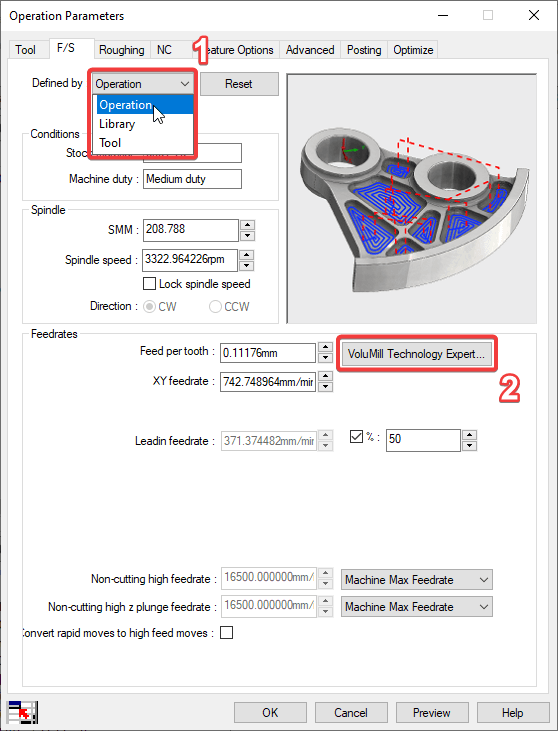 S klikom na gumb »VoluMill Techology Expert« dobimo spodnje okno.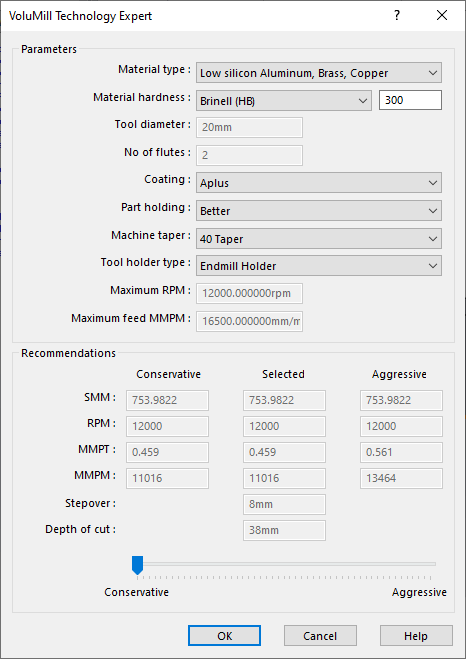 Tukaj lahko Izberemo vrsto materjala, trdoto materiala, kot tudi kako dobro je naš kos vpet v stroj in kakšno držalo orodja uporabljamo. Sivo obarvani parametri pa nam prikazujejo kakšni so lažji, izbrani in agresivni parametri obdelave.
Ena od zanimivih nastavitev  v Technology Expert-u je drsnik čisto spodaj z njim lahko izberemo kako »agresivna« oziroma »zadržana« bo naša obdelava. Razlike v teh nastavitvah si lahko pogledamo v spodnjem primeru.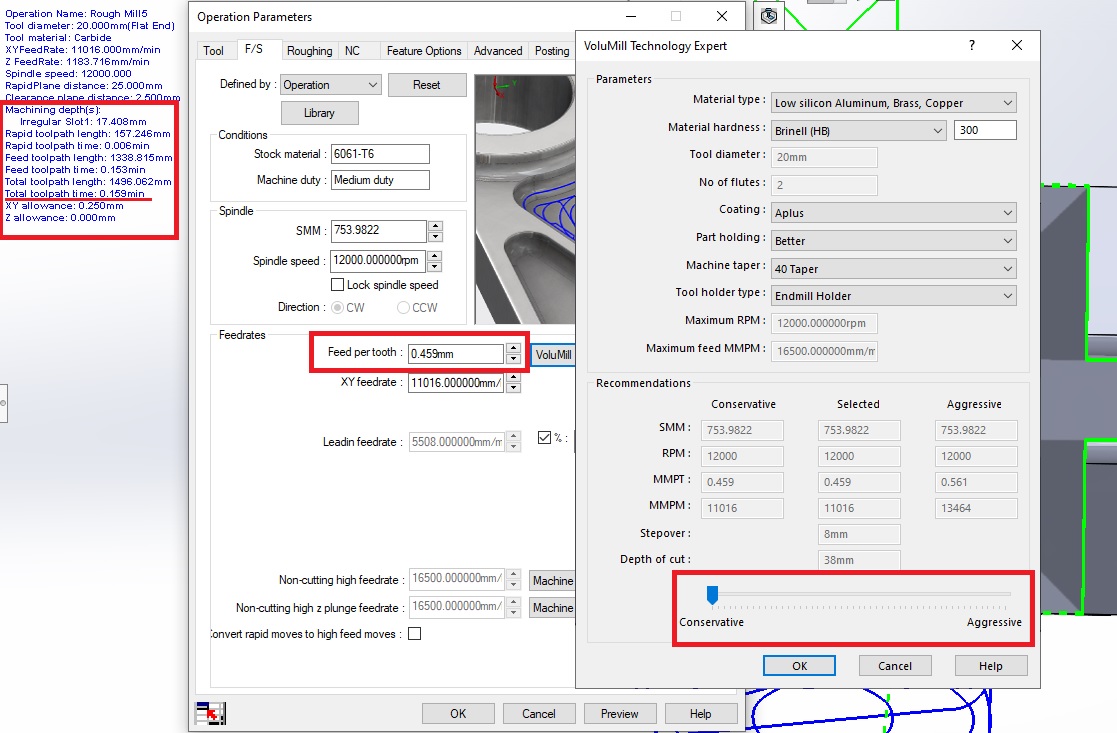 Zgoraj "Conservative" način, spodaj "Agressive" način.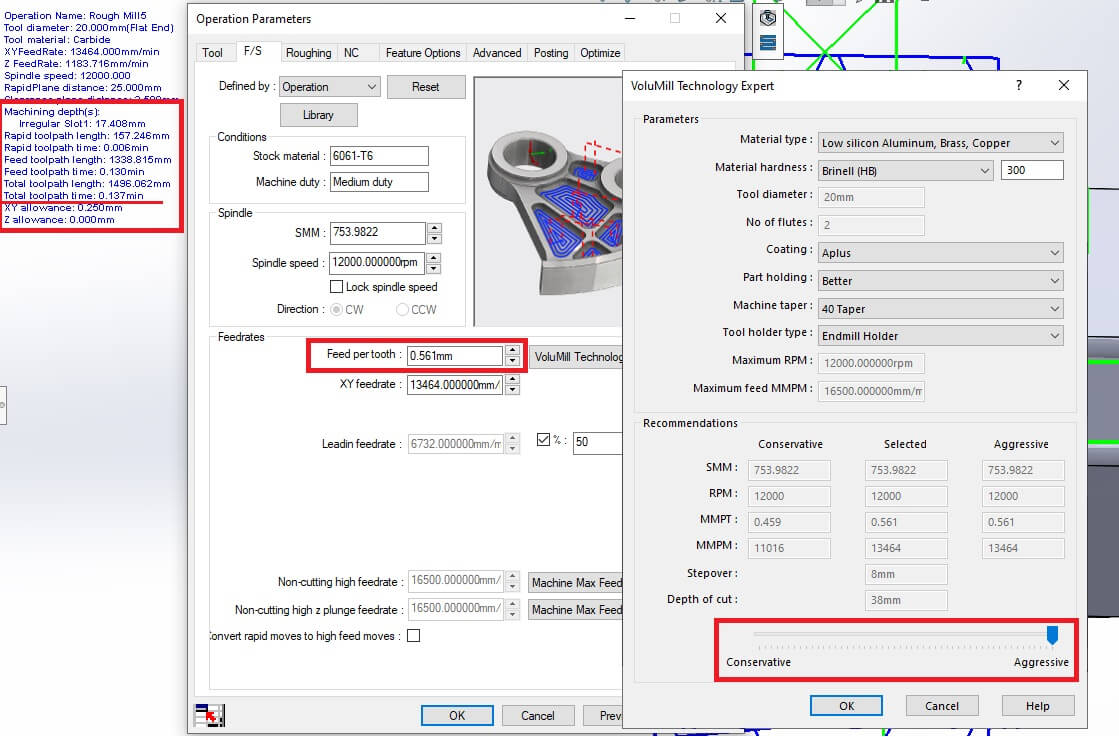 Ko izberemo »Conservative« način je predviden čas izdelave 0,159min med tem ko se za isto pot orodja v načinu »Agressive« čas izdelave zmanjša na 0,137min. Volumill pa svojo hitrost pokaže še bolj pri izdelkih kjer je odvzema materiala še več.