Nov CAMWorks 2022 v novi verziji, tako kot vsako leto na podlagi izkušenj uporabnikov še veliko bolj avtomatizira pametno proizvodnjo in CNC programiranje. Uporaba najnaprednejših tehnologij v CAMWorks 2022 ga uvršča v najnaprednejšo CAM programsko opremo CAM na trgu. CAMWorks je na osnovi znanja popolnoma integrirana tehnologija, ki združuje procese načrtovanja, oblikovanja ter proizvodnje v enem sistemu. CAMWorks je na podlagi dolgoletnih izkušenj (govorimo o več kot 30 let izkušenj) postal eden iz med najbolj naprednih CAM programov na trgu. CAMWorks je prav tako prvi SOLIDWORKS-ov zlati partner. Ko programiramo s CAMWorks govorimo o popolni integraciji znotraj SOLIDWORKS-a. Programiranje poteka na osnovi gradnikov in ker je celoten proces znotraj enega sistema in ene datoteke govorimo tukaj tudi o popolni asociativnosti.
Kaj je novega?
CAMWorks 2022 – podpora  visoko zmogljivih rezkarjev za 3D fine obdelave – orodja specifičnih oblik
V novi verziji lahko izberemo orodja za 3D fino obdelavo t.i. visokozmogljive rezkarje "Barrel Tool"
CAMWorks v novi verziji podpira "Barrel tool" v naslednjih operacijah:
Obdelave "Multiaxis Mill"
Vse 3 osne obdelave
5 osne obdelave (nepodpira središčenja, posnemanja vogalov, vrezovanja navojev, rezkanja navojev in Volumill operacije)
Na voljo za izbiro je 5 tipov orodij nestandardnih oblik: "Standards", "Conical", "Tapered", "Lens", "Advanced.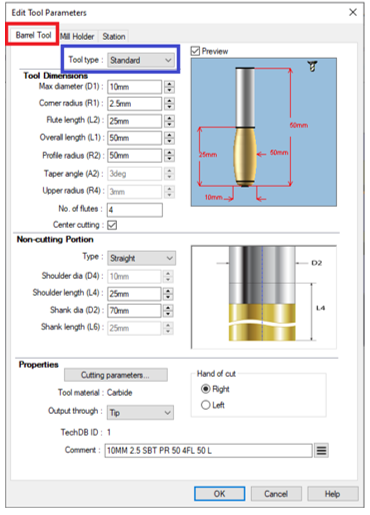 Slika 1: Orodja specifičnih oblik v okencu Edit tool parameters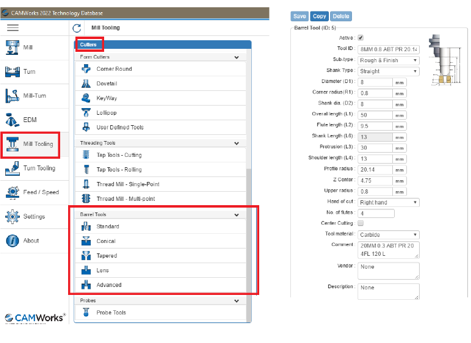 Slika 2: Orodja specifičnih oblik v knjižnici rezkalnih orodij
Vmesnik za določanje in spreminjanje funkcij "Multisurface" v pogovornem oknu operacijskih parametrov
Izberemo površino katero moramo obdelati in površine na katere moramo paziti oz. se jim moramo izogibati. Omogoča lažjo interakcijo uporabnika z CAMWorks-om tako, da funkcija omogoča izbiro in spreminjanje funkcije "Multisurface".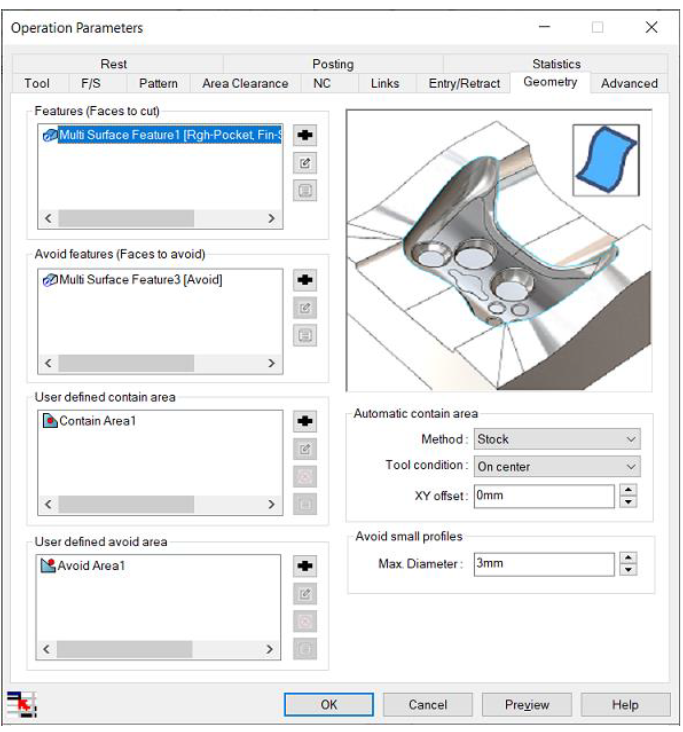 Slika 3: Novo okno  za izbiro površin
Izboljšana funkcija "Machine to Mean", obdelava na podlagi toleranc (Tolerance Base Machining).
Funkcija za katero je bila ustvarjena orodna pot za "Contour Mill" doseže maksimalno obstojnost materiala (Maximum material Condition – MMC). V CAMWorks 2022 verziji, ko je izbrana funkcija "Machine To Mean" program izbere srednjo optimalno vrednost, glede na maksimalno in minimalno toleranco.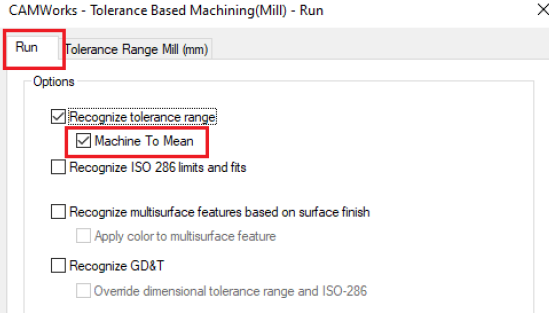 Slika 4: "Machine To Mean" option in Run Tab
Primer: če imamo neko obliko, ki jo moramo narediti na neko mero in je tolereanca 30mm (+0.0, -0.5mm), bo program izbral (Allowance 0.125mm na steno, kot je vidno na spodnji sliki) srednjo vredno tolerance se pravi 29,75 mm. Obdelava bo prilagojena maksimalnemu odvzemu, da maksimalno izkoristimo obstojnost materiala.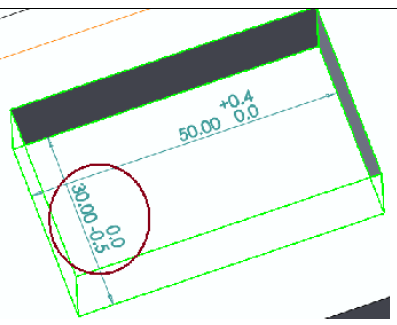 Slika 5: Primer uporabe "Machine To Mean"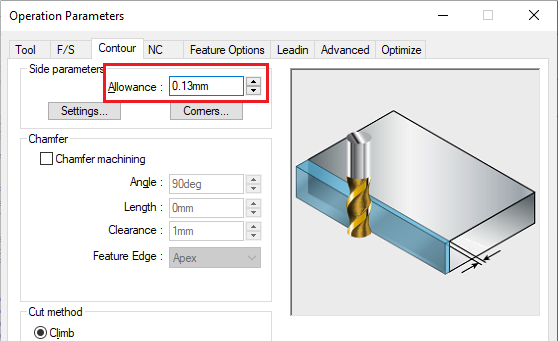 Slika 6: Primer uporabe "Machine To Mean" (prikaz polja v zavihku Contour Mill, ki označuje povprečje tolerance)
Pri operacijah grobe obdelave in čiščenja površin z "VoluMill" imamo sedaj možnost pretvorbe hitrih pomikov v pomike z visokim podajanjem.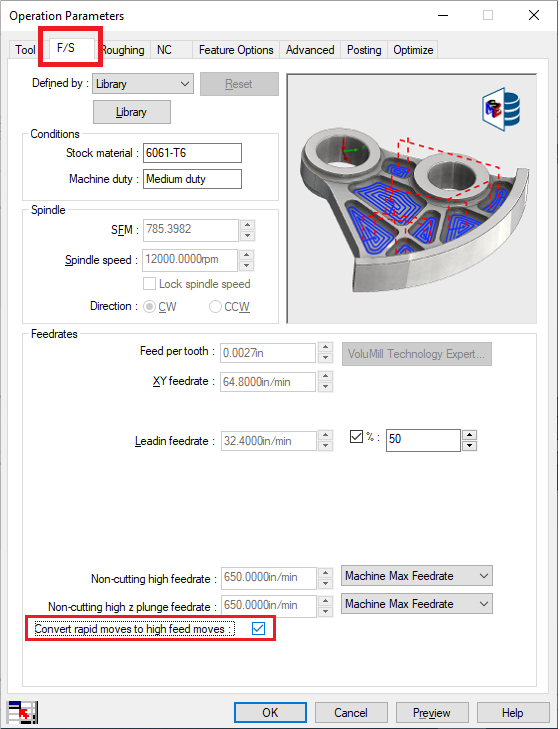 Slika 6: Pretvori hitre pomike v pomike z visoko hitrostnim podajanjem v zavihku F/S pri operacijah "VoluMill"
Pri operaciji "VoluMill" je na voljo pretvorba krožnih lokov v ravne črte glede na toleranco.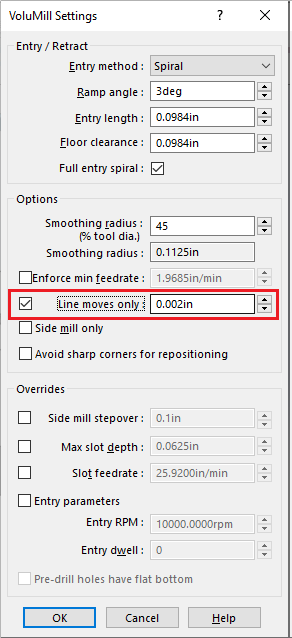 Slika 7: "VoluMill" nastavitve
Prime turning – Letošnje leto je CAMWorks v sodelovanju z Sandvikom naredil velik korak tudi pri struženju. Več o tem si lahko ogledate tukaj in na spodnjem videu.
Želite več informacij?
Za dodatne informacije o CAMWorks produktih nam pišite na elektronsko pošto info@ib-caddy.si ali nas pokličite na telefonsko številko 01 566 12 55.