Reporting
Ko morate ne glede na opremo in ne glede na podatke, ustvariti poročilo, da imajo odločevalci v projektu možnost pravočasno sprejeti pravo odločitev, je za te potrebe potreben sistem ki nam pri tem pomaga.
CheckMate Reporting je popolnoma integrirana aplikacija s CheckMate Programing, Point Cloud Metrology in SoftFit Solver aplikacijami. Ne glede na to kakšne so potrebe, aplikacija ustvarja in posodablja poročila sestavljena iz rezultatov, raziskav zmogljivosti in transformacij koordinatnih sistemov.
CheckMate Reporting deluje tudi s podatki iz vseh Dimenzijsko Merilnih Naprav (DME). Obsežen nabor formatov in uporabniška prilagodljivost omogočajo prilagoditev vašim edinstvenim zahtevam. (Na voljo tudi v SOLIDWORKS® okolju.)
CheckMate Reporting omogoča uvoz podatkov iz množice merilne opreme. Od prenosnih točkovnih zbiralnikov do CMM-jev in laserskih skenerjev. CheckMate prevzame uvožene izmerjene podatke, jih organizira na eni ali statistično več-kosovni bazi in ustvari različna grafična ali numerična poročila, ki ustrezajo vašim potrebam, vse iz enega skupnega sistema: CheckMate Reporting.
Seznam formatov katere se lahko uvozi v CheckMate Reporting.
| | | |
| --- | --- | --- |
| Brown & Sharpe AVAIL | Mitutoyo GeoMeasure 4000 | Renishaw Modus |
| Brown & Sharpe MicroMeasureIV | Mitutoyo GeoMeasure 6000 | Romer |
| Capps & Edges, CappsNT | Mitutoyo Geopak 2100 | Scanner |
| DEA Spectrum, Master, Tutor | Mitutoyo Geopak 2100 | Sheffield DirectIspect, MeasureMax |
| DMIS-Many | Mitutoyo GeoPak 3 | Sheffield FLB |
| Faro | Mitutoyo Mcosmos | Tarus |
| IMS Virtual DMIS | Mitutoyo MiCat | Valisys |
| LK-DMIS | Nastran | VDA |
| MeasureMax | New River Kinematics Spatial Analyzer | Wenzel OpenDMIS |
| Metris or Nikon Camio | Nikon Camio | Whitespace |
| Metronor | Nikon LaserRadar | Wilcox Associates PC-DMIS |
| MetroSoft MetroMec 3D | Numerex | Zeiss Calypso |
| Mitutoyo GeoMeasure | Omni-Tech 3-D, Visual 3D | Zeiss Umess-300, Umess-UX |
|   | QMC (now ATS) CM4D | Zeiss U-Soft |
CheckMate Reporting Features:
Branje in editiranje CMM podatkov brez vpliva na izmerjene vrednosti. Uvoz CMM podatkov v CheckMate Reporting omogoča ustvarjanje želenega poročila. Kadar je na voljo program za CMM, CheckMate Reporting ponuja razširjeno zmogljivost, da najprej naloži program in nato ustrezne rezultate meritev. To uporabniku omogoča prilagodljivost pri spreminjanju značilnosti definicij in izpisu spremenjenega poročila brez fizičnega ponovnega merjenja dela na CMM
Združljivost CAD proizvaja kompenzirane izmerjene podatke, ne glede na merilno napravo. Možnost Surface in Feature Compare naloži xyz podatkoe iz katerega koli vira in v primerjavi s CAD razvije kompenzirane izmerjene podatke. Ta sposobnost je še posebej primerna za ročne koordinatne merilne stroje in drugime naprave za točkovne kontaktne meritve, kot so laserski sledilniki in merilne roke. SoftOrient Data sistem za uvoz podatkov samodejno pretvori podatke iz lokalnega koordinatnega sistema stroja v CAD koordinatni sistem.
Izmerite v enem koordinatnem sistemu, naredite poročilo v različnih. S pripomočkom CheckMate CMTrans se lahko uporabijo transformacije koordinatnega sistema za merilne podatke z namenom izvedbe poročila v različnih koordinatnih sistemih. V primeru, ko je kos izmerjen v lokalnem koordinatnem sistemu je s pretvorbo mogoče ustvariti poročilo v CAD, orodnih, ali drugih koordinatah.
Na splošno je funkcionalnost in vsestranskost sistema CheckMate Reporting v kombinaciji z interoperabilnostjo na različnih merilnih napravah popolnoma primerna za kakršno koli merilno aplikacijo.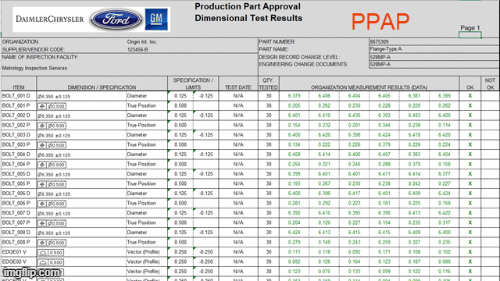 VIR: http://info.originintl.com/products/checkmate/prodreporting