Kot najbrž veste, ima SOLIDWORKS celo paleto modulov, ki razširijo delovanje SOLIDWORKS-a. Na voljo imamo simulacije s SOLIDWORKS Simulation, izdelavo kontrolne dokumentacije s SOLIDWORKS Inspection, izdelavo renderjev s SOLIDWORKS Visualize in veliko več. S tem SOLIDWORKS ni več le 3D CAD program ampak je veliko več. Seveda pa moramo mi, kot uporabniki, te dodatne zmožnosti znati uporabljati.
Poglejmo si primer uporabnika, ki bi se želel naučiti uporabljati SOLIDWORKS Visualize za izdelavo fotorealističnih renderjev. Tak uporabnik ima več možnosti:
Razni članki in videi na spletu
Izobraževanje v IB-CADDY izobraževalnem centru
Spletna izobraževanja na my.solidworks.com
V tem članku se bomo fokusirali na tretjo možnost – spletna izobraževanja na My.solidworks.com.

Na začetku pa moramo ugotoviti kaj my.solidworks.com sploh je. To je spletni portal, ki vsebuje raznorazne informacije o SOLIDWORKS-u, knjižnice 3D modelov, SOLIDWORKS forum in, med drugim tudi, spletna izobraževanja.
Kot uporabnik imate lahko različne nivoje dostopa do my.solidworks.com. Obstajajo:
Guest – brezplačen dostop
Standard – dostop za stranke z aktivnim vzdrževanjem za SOLIDWORKS
Professional – plačljiv dostop z največjim dostopom
Student – dostop za študente s Student Premium ali Student Edition licenco
Od nivoja dostopa je seveda odvisno katere elemente portala boste imeli na voljo.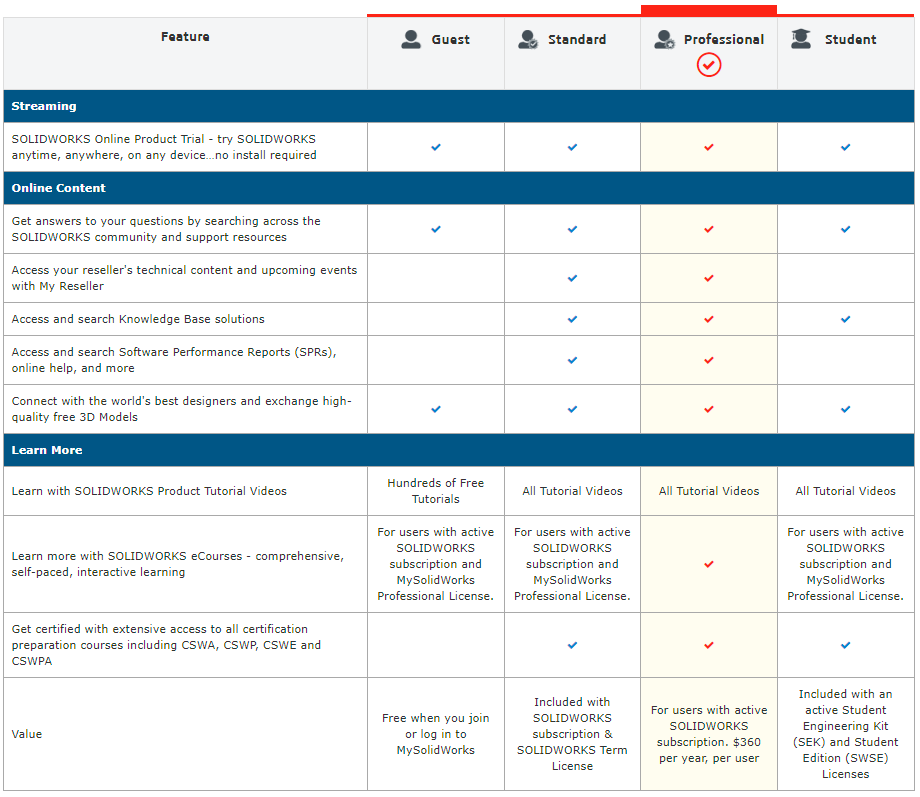 Ko se prijavite v my.solidworks.com lahko na vrhu vidite oznako Training. Če kliknemo na to oznako se nam odpre del strani namenjene izobraževanju. Desno zgoraj imamo tudi iskalnik v katerega lahko v našem primeru vpišemo Visulaize, ker nas zanimajo izobraževanja na to temo.

Odpre se nam iskalno okno z rezultati. Na levi strani imamo tudi filtre. Če filtriramo na produkt SOLIDWORKS Visualize, vidimo, da imamo na voljo 10 izobraževalnih tem na nivoju Guest in dodatnih 6 na nivoju Standard dostopa.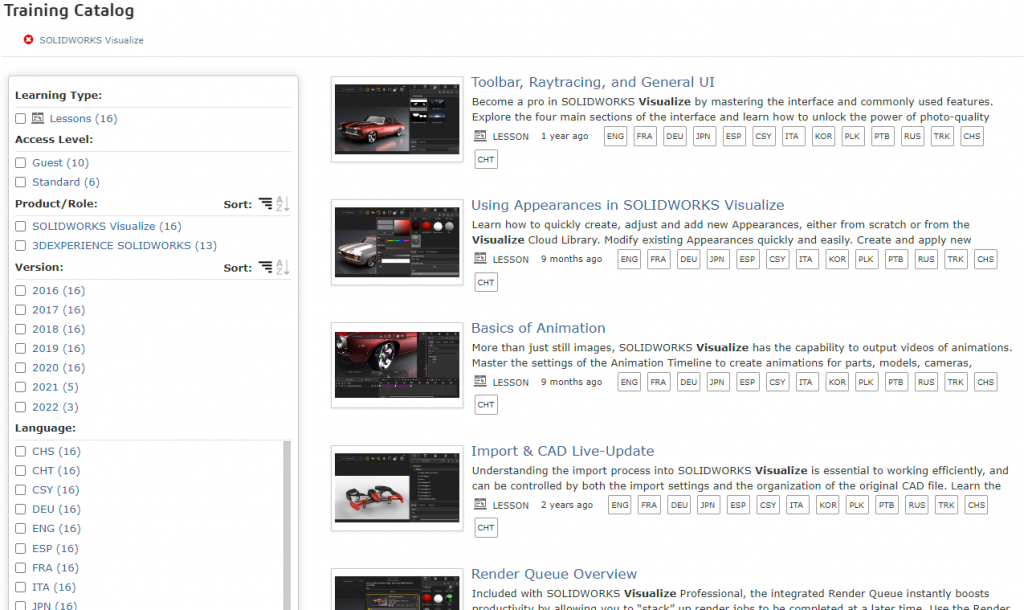 Na tej strani si lahko izberemo izobraževanje in se začnemo učiti uporabljati SOLIDWORKS Visualize.
My.solidworks.com izobraževanja so boljša od izobraževanj preko youtube videov saj so strukturirana in vodena. Seveda pa se je najboljše udeležiti izobraževanja v živo, kjer vas inštruktor vodi preko lekcij. Termini izobraževanj v živo v IB-CADDY izobraževalnem centru so objavljeni na https://solidworks.ib-caddy.com/izobrazevanje/#termini.