Optimizacija topologije oz. Topology study (vključeno v SOLIDWORKS Simulation Professional in SOLIDWORKS Simulation Premium) vam pomaga določiti najboljšo obliko za določene robne pogoje. Novost v SOLIDWORKS 2019 verziji so »zahtevane omejitve«, ki vam olajšajo pot do končnega rezultata. V optimizacijo topologije sta sedaj dodani dve zahtevani omejitvi: frekvenčna zahteva in zahteva po napetosti oz. faktorju varnosti.
Frekvenčna omejitev
Frekvenčna omejitev lahko definira zgornjo mejo, spodnjo mejo in območje spremenljivih lastnih frekvenc geometrije. Doda se lahko več omejitev za več lastnih frekvenc, da v preračun vključimo vse mogoče scenarije. Seveda je potrebno najprej simulirati začetno (neoptimirano) geometrijo, da se prepričamo, da začnemo z sprejemljivim rezultatom.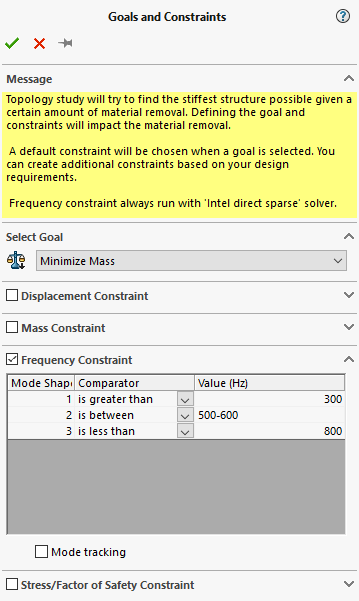 Možnost »Mode Tracking« pomaga slediti oblikam lastnih frekvenc in ugotavlja, ali je oblika relevantna za posamezno iteracijo. Ko je možnost »Mode Tracking« izključena, bo omejitev vedno veljala za posamezno številko oblike (npr. 1 oblika, 2. oblika, …) ne glede na to, če so si oblike zaradi spremenjene geometrije zamenjale vrstni red. Ko pa je »Mode Tracking« vključen, bodo omejitve vezane na posamezne oblike in ne na njihove zaporedne številke, četudi se te spremenijo. To pomeni, da bo omejitev na prvo frekvenčno obliko v originalnem modelu lahko po nekaj iteracijah veljalo za tretjo frekvenčno obliko.
Omejitev na napetost oz. faktor varnosti
Ko je zahteva, da je največja napetost pod določeno vrednostjo oz. da imamo definiran minimalen faktor varnosti, lahko s to omejitvijo vplivamo na obliko optimizirane geometrije. Možnost za napetost nam omogoča določanje največje dopustne Von Mises napetosti ali največjo napetost v procentih v odvisnosti od trdnosti materiala.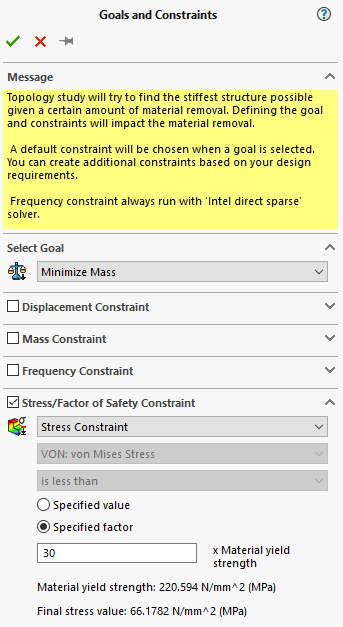 Omejitev faktorja varnosti pa nam definira minimalen še sprejemljiv faktor varnosti pri optimizirani geometriji.