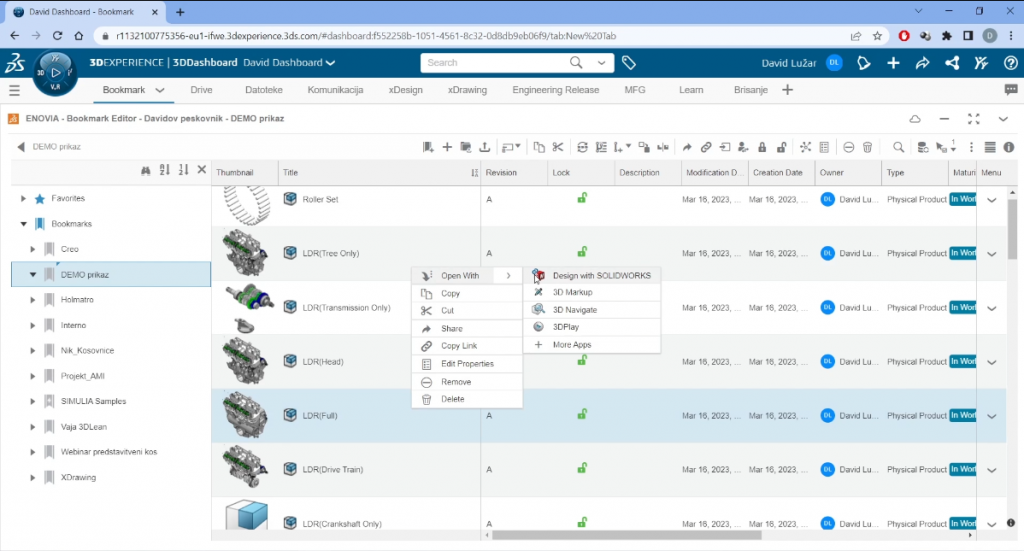 Datoteke shranjene na platformi 3DEXPERIENCE, lahko odpremo v SOLIDWORKS-u na tri različne načine:
1. Odpiranje datotek direktno iz spletnega brskalnika

SOLIDWORKS lahko zaženemo direktno iz platforme 3DEXPERIENCE z aplikacijo Design with SOLIDWORKS. Ko je SOLIDWORKS zagnan se vrnemo v brskalnik in v aplikaciji Bookmark editor poiščemo zahtevano datoteko in z desnim klikom nanjo izberemo open with in nato željeno aplikacijo. V našem primeru je to design with solidworks. Obstaja tudi druga opcija odprianja iz brskalnika, ki pa je da datoteko povlečemo in spustimo v oknu SOLIDWORKS.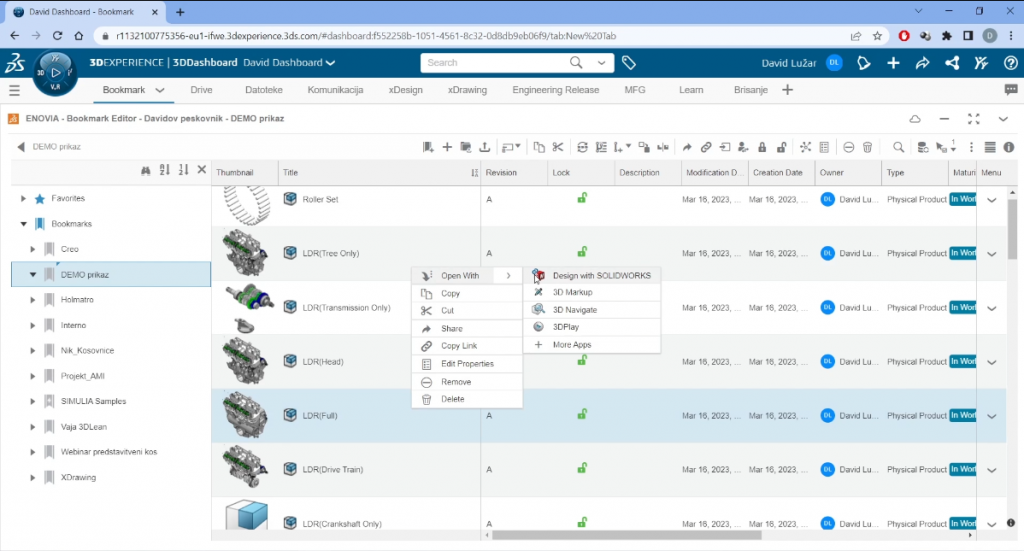 2. Odpiranje z uporabo vtičnika 3DEXPERIENCE v SOLIDWORKS-u

Pri drugem načinu se nahajamo v programu SOLIDWORKS, kjer lahko na desni strani odpremo "task pane" vtičnika 3DEXPERIENCE. Tu lahko kot na brskalniku, s pomočjo kompasa, odpremo aplikacijo Bookmark editor, poiščemo zahtevano datoteko in jo povlečemo in spustimo v grafično polje. Lahko pa tudi preskočimo odpiranje aplikacije Bookmark editor in datoteko poiščemo preko iskalne vrstice.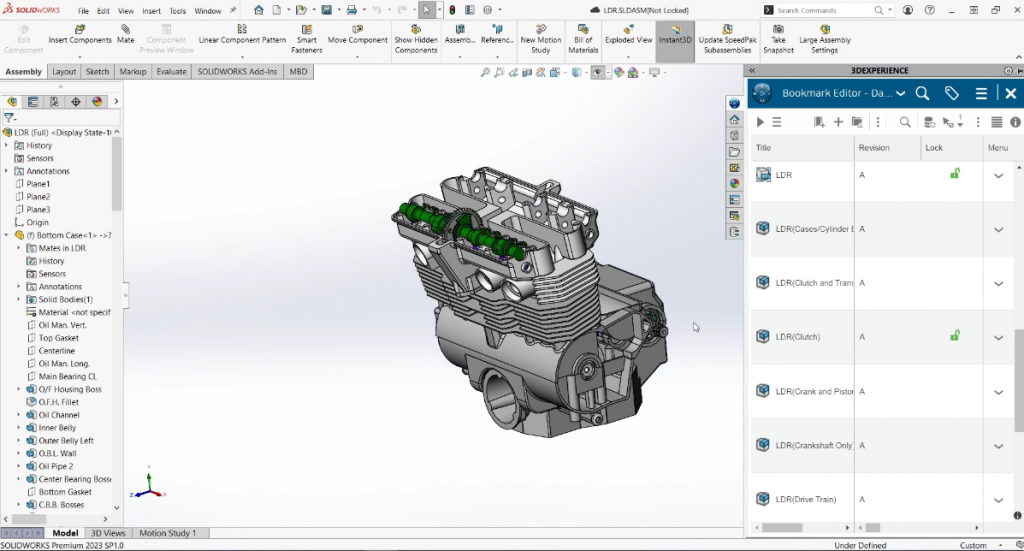 3. Odpiranje z Open from 3DEXPERIENCE v SOLIDWORKS-u

Še zadnji način odpiranja datoteke pa nam je dosedaj najbolj znan. V orodni vrstici SOLIDWORKS-a izberemo ikono Open, kjer pa nato izberemo opcijo Open from 3DEXPERIENCE. Tu imamo na voljo zopet direktno iskanje po imenu datoteke ali pa iskanje po "bookmarkih". Zopet poiščemo datoteko preko "bookmarkov" in jo odpremo.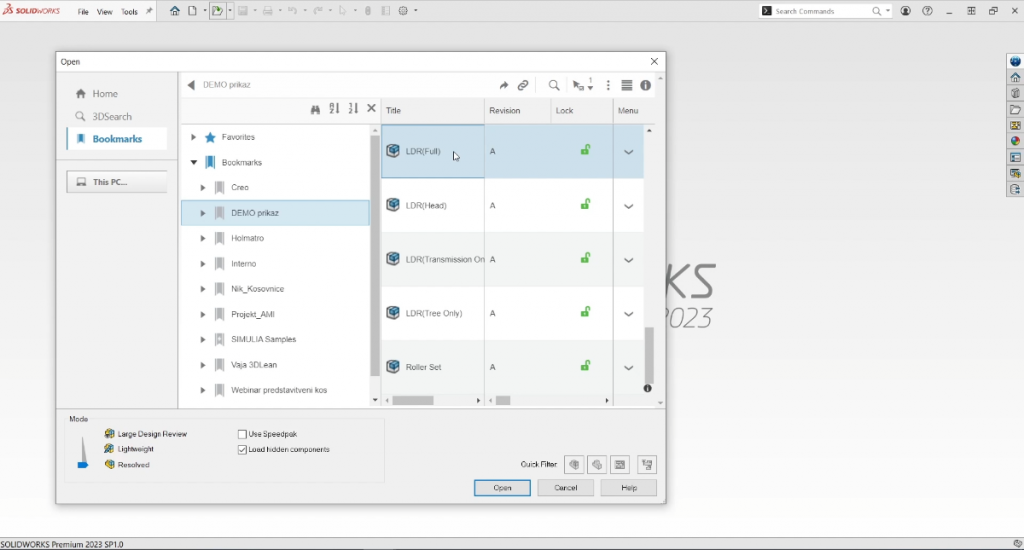 Ko zakjlučimo z urejanjem sestava ali kosa, ga lahko shranimo na 3dexperience preko ikone za shranjevanje, kjer izberemo save to 3dexperience.
Lahko pa se zopet pomaknemo na desno stran do vtičnika 3dexperience, kjer se nam z desnim klikom na določeno komponento pojavijo dve opciji za shranjevanje. S klikom na save se datoteka shrani direktno, s klikom na save with options pa se nam odpre okno, kjer lahko shranimo datoteko kot novo revizijo ali pa jo shranimo pod drugačen bookmark.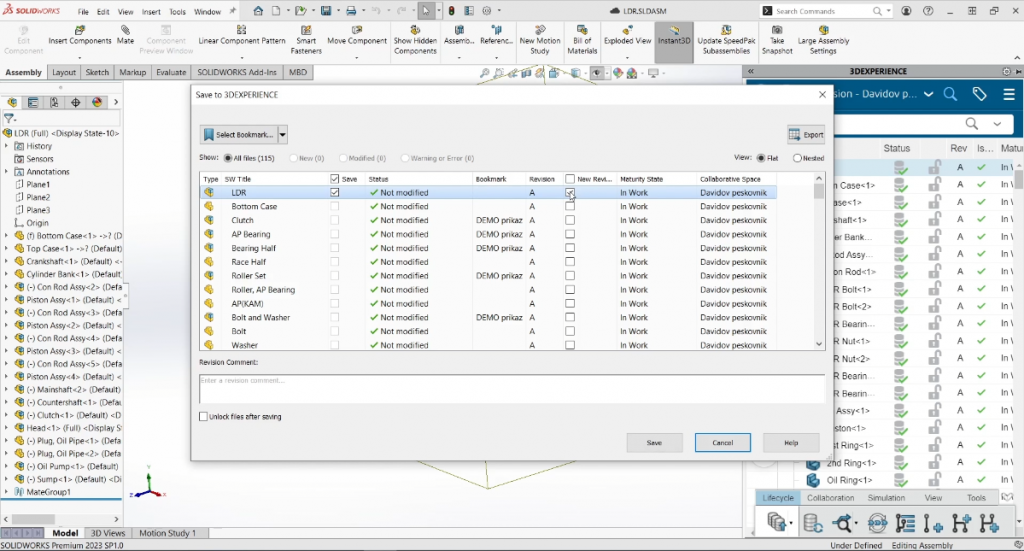 Za več informacij o aplikacijah prikazanih v videu in sami platformi 3DEEXPERIENCE, lahko obiščete našo spletno stran, ali pa nas kontaktirajte na info@ib-caddy.si ali telefonsko številko 01 566 12 55.