VEČJA PRODUKTIVNOST, PREPREČEVANJE SROJNIH TRKOV
Eureka z branjem g-kode virtualizira popolno 3D-simulacijo obdelovalnih strojev prek preprostega in intuitivnega grafičnega vmesnika.
Žalite preizkus? Kliknite tukaj
Preverite programe ISO stroja ob upoštevanju makrov, podprogramov in ciklov
Večina simulacij programov CAM ne upošteva makrov, podprogramov in ciklov. Simulacije v CAM aplikacijah ne upoštevajo na primer: ničle stroja, upravljanja z več glavami, tipalnih ciklov (probing).
Eureka G-Code simulira dejansko G-kodo ne glede na to ali je bila ustvarjena ročno ali naknadno obdelana iz programa CAM. Eureka izvaja simulacijo na podlagi zelo natančnega in zanesljivega »digitalnega dvojčka« obdelovalnega stroja in CNC krmilnika.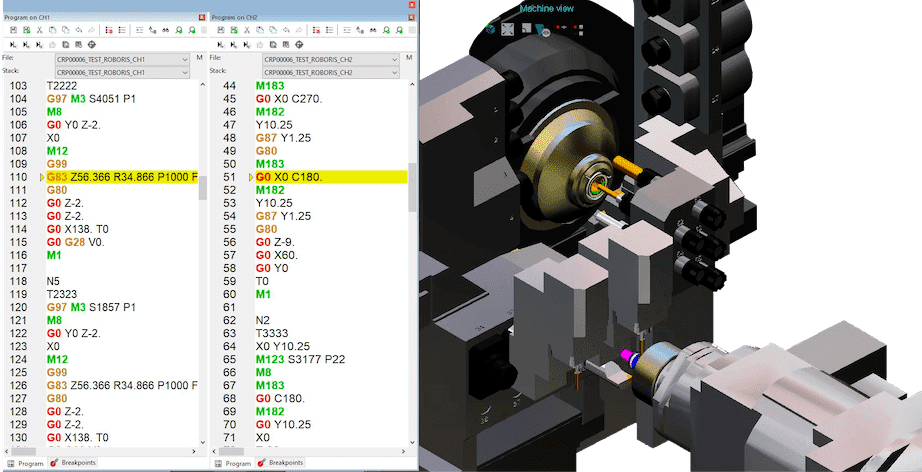 Poiščite najboljšo nastavitev, ne da bi zasedali stroje iz proizvodnje s preverjanjem programov
Nastavitev strojev in preverjanje programov G-code je lahko zelo dolg in drag proces z negativnim vplivom na proizvodne čase, časa do trga in dobičkonosnosti.
Z Eureka G-Code lahko skrajšate čas nastavitve stroja do 80 %. V Eureki lahko simulirate in preverite vse programe ISO, ki so ustvarjeni ročno ali naknadno obdelani iz sistema CAM.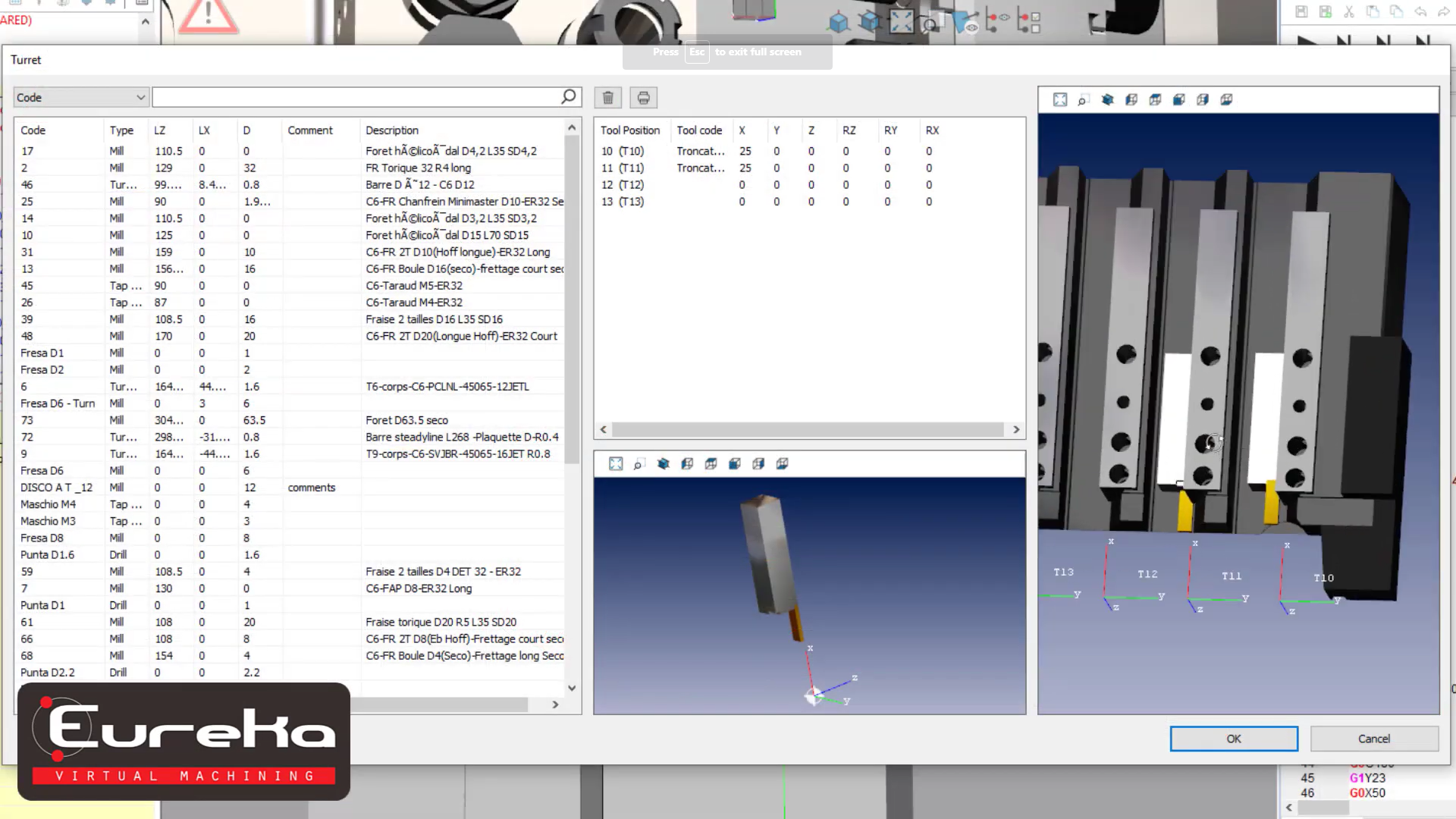 Izogibajte se nevarnosti strojnih trkov, poškodb in izpadov zaradi programskih napak.
Programske napake so pogost vzrok za trke in poškodbe na stroju. Rezultat so izgubljene ure programiranja, poškodbe dragih obdelovancev, lomljenje orodij in trki z deli stroja, kot je na primer vreteno.
Zahvaljujoč popolni digitalni kopiji kode Eureka G-Code, lahko preverite in simulirate svoje programe ISO na vašem računalniku in se izognete dragim napakam pri programiranju, ki povzročajo kolizije in izgubo časa.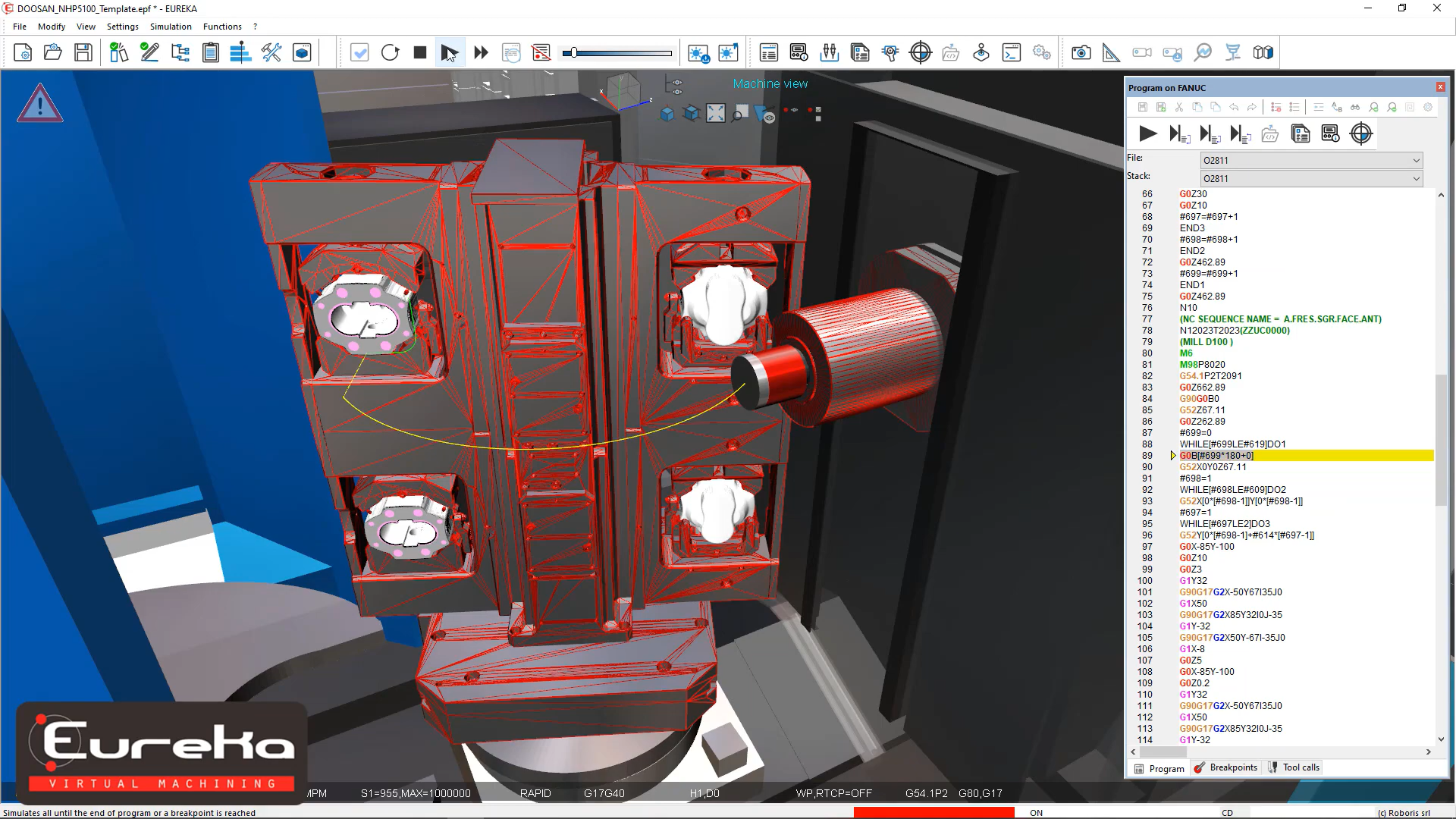 Zmanjšajte čas obdelave in zmanjšajte stroške orodja z optimizacijo pogojev rezanja
Zahvaljujoč prefinjenemu digitalnemu dvojniku postopka odstranjevanja materiala in inovativni metodi, ki jo je patentiral Roboris, Eureka samodejno optimizira pogoje rezanja orodij z modulacijo hitrosti podajanja in s tem skrajša čas cikla, podaljša življenjsko dobo orodja, zmanjša obremenitev osi stroja in izboljšanje porabe električne energije.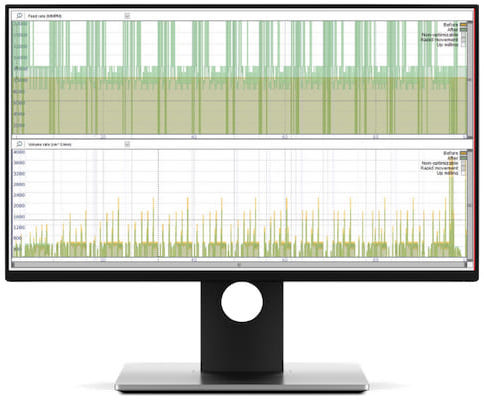 Z analizo rezultata simulacije lahko odkrijete vdolbine, presežek materiala, anomalije ali poiščete ozka grla in optimizirate čas cikla.
Z Eureko imate lahko zelo natančno orodje za primerjavo med obdelanim delom in 3D konstruiranim delom. To orodje vam omogoča neposredno primerjavo modela CAD končnega izdelka z modelom strojno obdelanega surovca, obdelanega ali pridobljenega v simulaciji. V Eureki lahko izmerite morebitne razlike, prepoznate vdolbine, presežke materiala ali druge neskladnosti.