Za tiste, ki se še niste spoznali z orodjem za primerjanje geometrij v SOLIDWORKSU bomo v tokratnem blogu govorili o orodju Compare Geometry (primerjava geometrij), ki ga SOLIDWORKS okolje ponuja v vseh različicah od SOLIDWORKS 2016 dalje. Compare Geometry orodje vam omogoča primerjavo geometrije med dvema SOLID modeloma. Namenjen je ugotavljanju razlik med modeli, pregledu revizij modelov in sledenju razvoja oblike.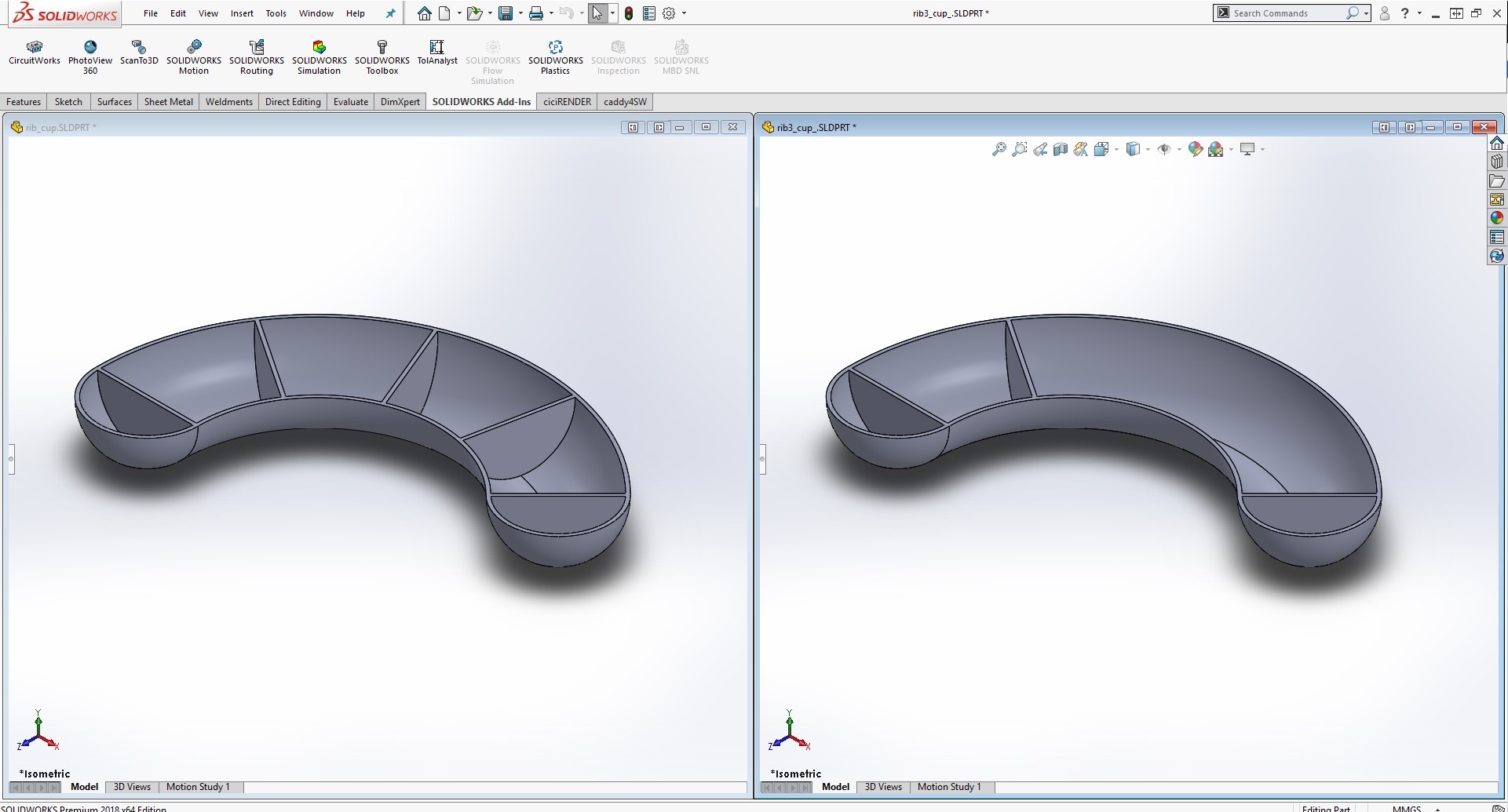 Compare Geometry, deluje tako s SOLIDWORKS Part in Assembly, kot z uvoženimi datotekami (STEP, Parasolid, IGES, ACIS, VDAFS), saj preučuje geometrijo. To je enostaven način za primerjavo različnih revizij datotek in razumevanje načrtovalskih sprememb, posebno zato, ker lahko primerja volumne ali površine teles.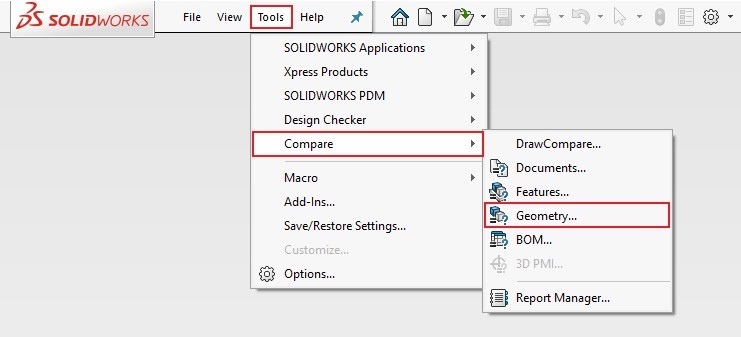 Orodje najdemo pod Tools > Compare > Geometry. Ko se orodje aktivira, v oknu Compare najdemo nastavitve orodja. V spustnem meniju Reference document in Modified document izberemo ali uvozimo datoteke, ki jih želimo primerjati. Pod Items to compare izberemo okence Geometry in nato zaženemo primerjavo z gumbom Run Comparison.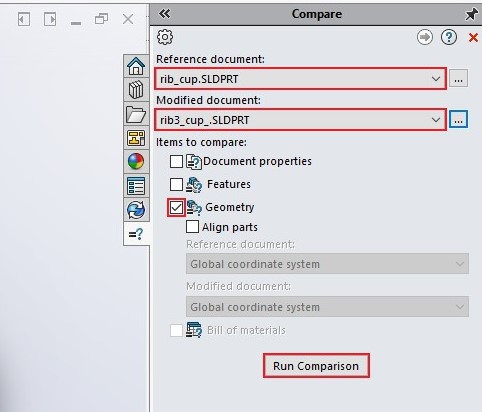 Ko orodje zaključi primerjavo, se nam v grafičnem polju pojavita okni v katerih se nahajata modela, ki ju med seboj primerjamo. S pomočjo nastavitev v oknu Compare, lahko s klikom na oko pred ukazom poljubno upravljamo prikaz ujemanja teles na nivojih materiala za odstranitev, materiala za dodajanje ter skupnega volumna. Poleg vizualne primerjave obstaja možnost, da razlike med modeloma prenesemo z enega na drugega in jih združimo v eno telo. To storimo, tako da odkljukamo ukaz Keep bodies on close, izberemo ali bomo prenesli tiste dele, ki so za odstranitev ali dodajanje in nato izberemo na katerega od modelov jih želimo nanesti. Prenesena telesa na nivoju parta združimo ali odštejemo  s funkcijo Combine.
Poleg volumnov teles lahko med seboj primerjamo tudi površine dveh modelov in sicer na nivojih nespremenjenih površin, novih površin in spremenjenih površin.