Ko je potrebno zbiranje dokazov, pa naj si bo to dokazov na krajih zločina ali dokazov o poškodbah zasebne ali javne lastnine, je vedno vprašanje na kakšen način so ti dokazi zajeti in kako predstavljeni. Odločevalci in sodniki v takšnih primerih nimajo lahkih nalog zato poskušajo svoje odločitve utemeljiti na zbranih podatkih. Velikokrat bi se lahko lažje, hitreje in z zagotovostjo pravilno odločili, če bi se lahko znašli v okolju kjer se je dogodek zgodil. V ta namen je podjetje FARO razvilo ročni 3D skener FARO Freestyle 2, ki v kombinaciji s FARO Focus 3D laserskim skenerjem predstavlja celovito rešitev za področje preiskovanja.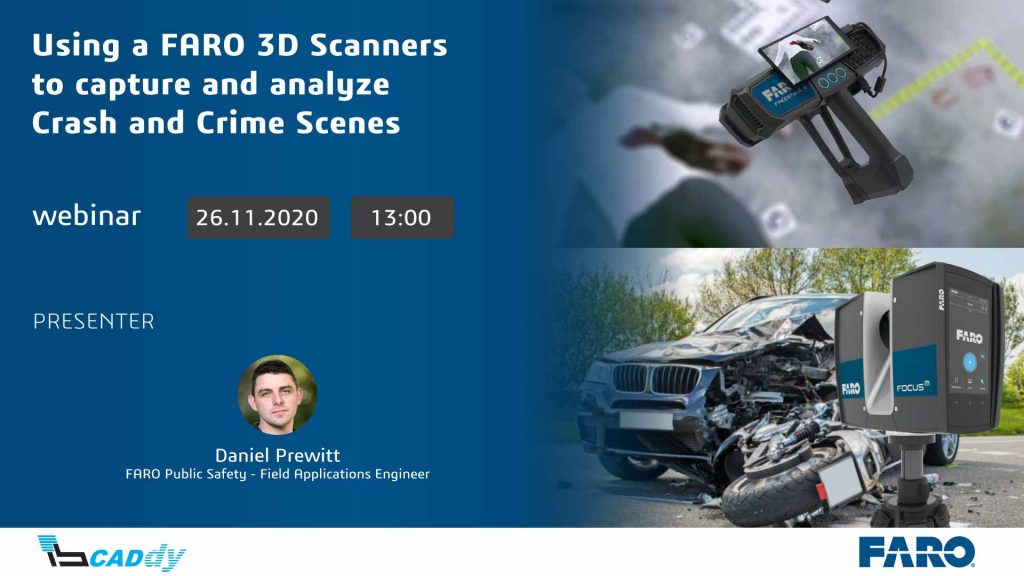 IB-CADDY vas vabi, da se udeležite webinarja Using a FARO 3D Scanners to capture and analyze Crash and Crime Scenes, kjer bo naš gost Daniel Prewitt, strokovnjak za zajem in obdelavo 3D podatkov za namene forenzike in javne varnosti. Webinar bo v angleškem jeziku.
Datum: četrtek, 26. november 2020, ob 13h
Prijava: https://bit.ly/2UxcCkQ
Predstavitev bo v angleškem jeziku.
Agenda:
Pomen 3D dokumentacije v forenziki
Souporaba podatkov in zaupanje v skenirane podatke
Scene2Go za javno varnost
Uporaba CCTV pri skeniranih podatkih
Druge zmožnosti analize podatkov skeniranja

Analiza krvnega vzorca/madeža
Pot izstrelka
Analiza trkov