3D skeniranje se vse pogosteje uporablja v gradbeništvu z namenom zajeti obstoječe stanje ali analizirati stanje med gradnjo. V nekaterih primerih je zaradi velikosti objektov in s tem povezanih časovnih okvirov potreben hiter zajem notranjosti objektov. V ta namen je podjetje FARO razvilo sistem, ki povezuje dve zmogljivi napravi iz njihovega portfolia in omogoča prav hitro 3D skeniranje notranjih prostorov. FARO Scan Plan 3D skener, omogoča zajem in rezultiranje podatkov kot 2D "načrt" notranjih prostorov, medtem ko FARO Focus 3D laserski skener poskrbi za 360 stopinjski zajem podatkov z visoko natančnostjo. Skupaj tvorita mobilni sistem, ki so ga pri FARO poimenovali FARO Swift in prinaša kar do 10 krat hitrejši zajem notranjih prostorov kot tradicionalno stacionarno izvajanje posameznih 3D zajemov.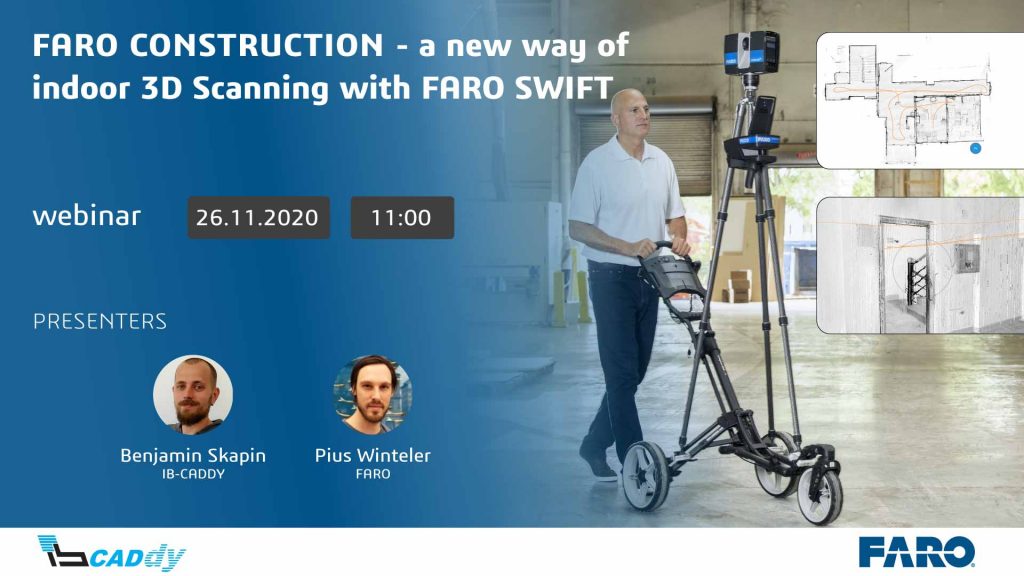 Vabimo vas torej, da se udeležite webinarja FARO CONSTRUCTION – a new way of indoor 3D Scanning with FARO SWIFT, kjer bomo prestavili povezljivost dveh rešitev FARO proizvajalca v sistem za hitro skeniranje notranjih prostorov imenovano FARO SWIFT.
Datum: četrtek, 26. november 2020, ob 11h
Prijava: https://bit.ly/2ILcuvi
Predstavitev bo v angleškem jeziku.
Agenda:
Faro Focus

Predstavitev opreme FARO Focus in programske opreme FARO Scene
Aplikacije v Arhitekturi, Gradbeništvu, Inženiringu, Rudarstvu in Geodeziji
Prednosti uporabe FARO Focus

Faro Scan Plan

Predstavitev opreme FARO ScanPlan
Aplikacije in prednosti uporabe

FARO SWIFT

Predstavitev hitrega načina 3D skeniranja notranjih prostorov s sistemom Faro Swift
Aplikacije in končni uporabniki
Prednosti pred konkurenco

Q&A